Joining the orchestra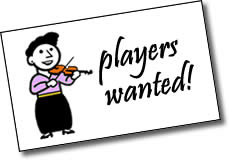 The orchestra is keen to recruit new members, and welcomes enquiries from string players of a standard equivalent to around grade V or above. We especially need more violins and violas. There are no auditions.
Rehearsals are on Friday evenings in the centre of Newcastle-under-Lyme, normally from September until May or June. The orchestra has its own extensive library of music; the concerts page gives an indication of the repertoire.
If you think you may be interested in playing with us, and are able to attend regular Friday evening rehearsals, please contact the chairman, W. Albert Hancock: